FBR Pakistan issue a unique identity to each taxpayer or legal entity in Pakistan which is known as National Tax Number, FBR Pakistan introduce an easy online NTN Verification search engine about taxpayers Online NTN inquiry, FBR NTN Verification. How to verify NTN online or How to verify NTN Number in Pakistan the solution of this query is made so easy by FBR Where any individual can online NTN number Check. By using the following instructions.
FREE NTN REGISTRATION FBR
Setup a free account & File Your Free NTN Registration FBR request with us. Get your NTN with in 1-2 working days. You can also use it to file your FBR Tax Returns. 
In order how to verify ntn number in Pakistan, you have to follow the simple sets. Please use the quest bar beneath for online NTN Verification and click within Online Services on ONLINE VERIFICATION PORTAL.
FBR – Taxpayer Profile Inquiry
Provide your respective "Registration No" in the registration field. (This is a number that you received when you submitted your request to get a National Taxation Number.)
1st Step: To check detail of individual in the records of FBR according to NTN number in Pakistan, click on the "TaxPayer Profile Inquiry" option from the left sidebar.
2nd Step: Select between defined parameter CNIC / NTN / INC No.
3rd Step: Enter your "CNIC" in the REG # field.
4th Step: Enter captcha against the "Captcha" field.
5th Step: By clicking on the "Submit" button information displayed.
Now Follow the above instruction in the below image.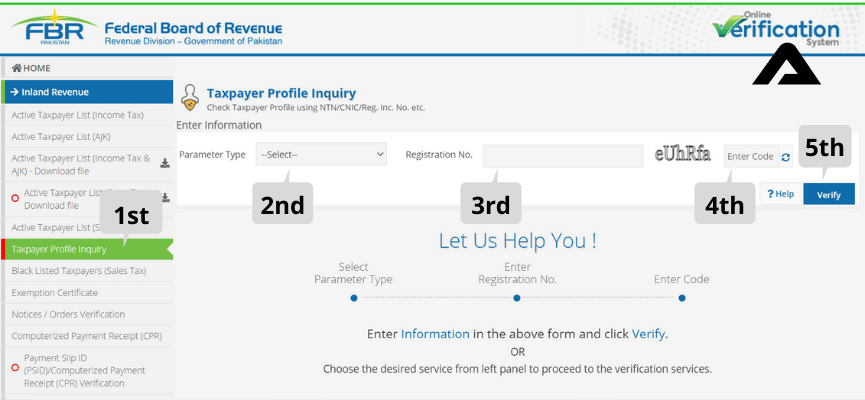 People in developed Societies pay taxes. You should also read the Benefits for Filler section articles. Which describes well the benefits of being a responsible resident of Pakistan.